News
Congratulations to our new Head Prefects.
Posted on: 5th Jan 2023
At the end of last term, 14 of our Year 11 students put themselves forward for the Head Prefects election. At the hustings, each student gave an impressive speech to an audience of prefects and staff. The voters listened carefully before weighing up their choices.
We're delighted to announce the clear winners of the vote are Zundus (Head Girl), Ano (Head Boy), Carla (Deputy Head Girl), and Henry (Deputy Head Boy).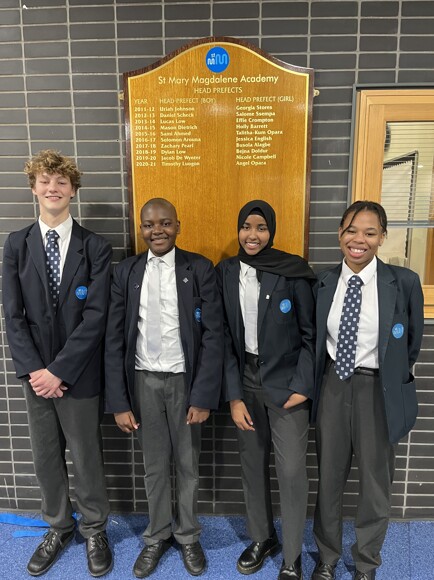 In their speeches, our winning candidates outlined their interests and strengths, their reasons for standing, and how they would make a difference. Zundus said, 'I will make it my mission to ensure that we as a year uplift and support each other in our endeavors and turn discouragement into encouragement.' Carla explained, 'I really love psychology, and learning about the mind in my own time helps me to be tactful and aware of the feelings and boundaries of other people.'

Ano won over his audience by saying, 'I will try to make myself as open, approachable and easy to talk to as possible. I think we should empower others and help people out, building each other up not breaking each other down.' And Henry impressed saying, 'There are lots of different people in this school - whether you're sporty, arty, musical, whether you're into politics, the environment or fashion, whether you're outgoing or quiet - whoever you are, this is your school as much as anyone else's.'

Well done to all the students who stood for election, and big congratulations to our new student leaders. We look forward to seeing the new team make a great contribution to school life in 2023. Happy New Year, everyone!