The SMMA Way
The SMMA Way is encapsulated in five expectations which all in our community are expected to adhere to: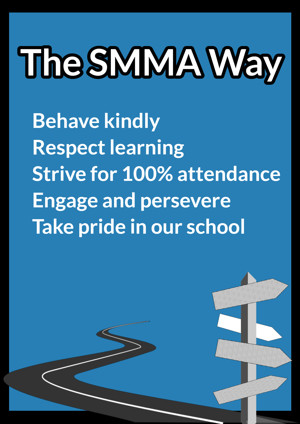 Behave kindly, show courtesy and respect to all members of the Academy Community.
Respect learning, never disrupt lessons or the learning of others.
Strive for 100% attendance, be punctual and bring the correct equipment.
Engage and persevere in all lessons and complete all set tasks.
Take pride in SMMA and demonstrate the Academy's Values.
We make a substantial commitment to the development of character in our pupils and their pastoral wellbeing. We are driven in our curriculum design as well as in our daily living to support our pupils' character development, and working in partnership with parents, ensure that their children are well-organised, content, and ready to learn.
We focus on six Christian values which underpin our approach.