Welcome to the Secondary School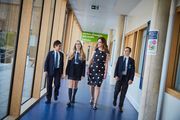 St Mary Magdalene Academy is a vibrant 11-18 Church of England sponsored school. At its heart is a clear focus on academic achievement together with a commitment to developing globally-minded citizens who can be happy and successful.
Please come and walk around the school on a working day to see what a welcoming and purposeful community we are.
The curriculum is thoughtfully planned and resourced to ensure pupils develop good learning habits from Year 7. Teaching staff are exceptionally well qualified and expected to plan with both inspiration and progress in mind in order to get the best out of every child. GCSE Options classes from Year 9 onwards are kept to no more than 25 and all core subjects are taught in sets.
The Academy is a Confucius school which means that we are a centre of excellence for the teaching of Chinese language and culture which all pupils study in Years 7 and 8. More recently we have become a hub school for the government's Mandarin Excellence Programme. Unusually we also offer French, Spanish and German as core languages from Year 7.
Enrichment and 'Inspire' activities are an important part of life at St Mary Magdalene and all pupils have the opportunity to participate in an enormous variety of activities. From the Duke of Edinburgh Award to orchestra and band; from drama and performance to chess and debating and many more!
Pastoral care is well thought out with a House structure which encourages pupils to mix across year groups and creates a small school feel. Our 'flagship' Guardian Groups of 15 pupils, rather than a conventional form group of 30, underpins our philosophy to nurture pupils, notice their qualities, celebrate successes and support them to develop. Happiness is important to us.
Our motto

"Show by a good life that your works are done by gentleness born of wisdom"
from James 3.13

is at the core of our values.

The Good Schools Guide recently visited us. They said "A shining example of an excellent school. Parents and pupils are aware they have picked the golden ticket if they can get an education here – the results are evidence of top quality teaching, and the children's involvement and happiness are enhanced by the wide enrichment programme, whilst the pastoral care provides a tight safety net. If you want a top-notch inclusive comprehensive education, this is the place to go."
Please click the Goods Schools Guide icon to read the full report.
St Mary Magdalene Promotional Video