News
Year 11 Mandarin Students Ace Their HSK Tests!
Posted on: 6th Jan 2022
Big congratulations go to 16 of our Year 11 Mandarin students, who passed their HSK test with flying colours last term.
The HSK (Hanyu Shuiping Kaoshi) is China's official language test for non-native speakers, and is the global standard for proficiency in the Chinese language. We are proud to say that the 16 students didn't just pass... they aced their test by a wide margin to achieve an excellent Grade 3!
Our students are rightly very proud of their achievements. Year 11 student Sophie says 'After completing the difficult HSK3 exam, I feel a strong sense of achievement and am very proud of myself and my peers. It was a great experience and will be very valuable to me in the future – I'm glad the school provided me with this opportunity.'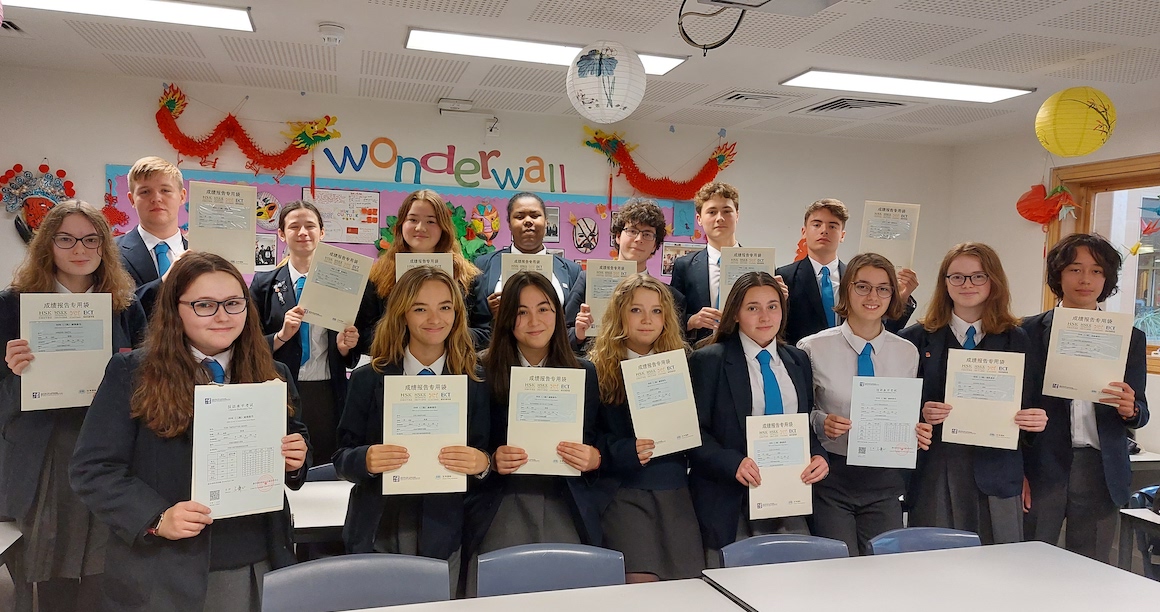 Dan adds, 'The HSK3 exam was an experience I will never forget! It was great to sit a professional and prestigious exam and I would go as far as to say I felt a real sense of achievement after receiving my award. I would encourage all students to get involved in exams such as HSK3 as they provide a benchmark for our future in our chosen languages because as well as a neat certificate it was a moment to cherish. åŠ æ²¹! (You can do it!)'
And Stan agrees, 'Completing the HSK3 mandarin exam was a great experience. I enjoyed it very much and I was one of 16 pupils to pass the test. The exam is sent to and marked by the examining board in China, so it is a great feat to be able to pass it. I would urge other aspiring linguists to aim high and have the same experience I did in completing these world-renowned assessments, 谢谢xiexie (Thank you).'
Head of Mandarin Ms Luo sums it up, saying, 'As their teacher, I am incredibly proud of these students. Even after a difficult year, in which many classroom hours were missed due to the pandemic, the students still excelled in this very difficult exam. Their success is a great demonstration of the wonderful SMMA spirit of resilience, diligence, and stoicism.'