University and Careers Coaching
Still haven't decided what job or course you're aiming for? Let us inspire you to discover your dreams.
Every year, we invite a range of guests to talk about their work. From doctors to journalists, barristers to explorers, pianists to PR consultants – our visiting speakers come from the widest range of professions and companies. Each one explains the work they do, how they got there, and how you might too.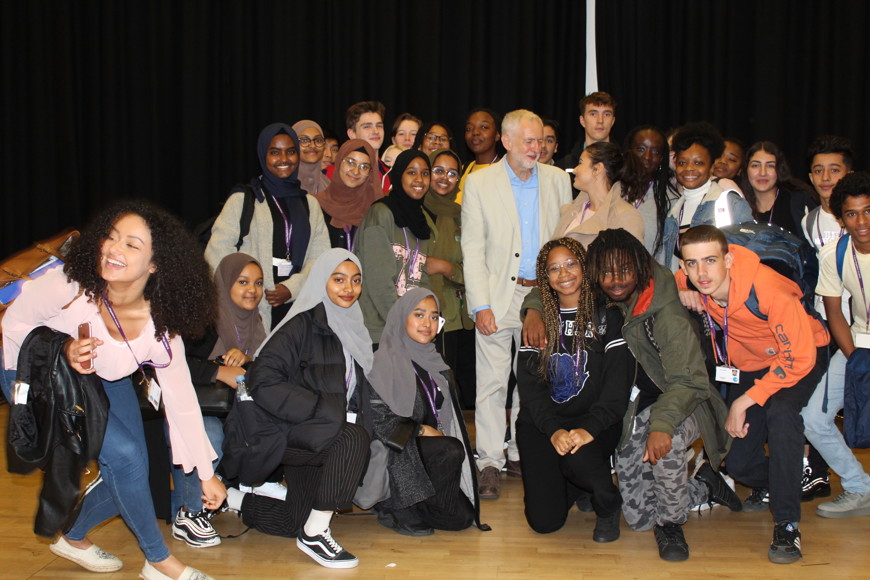 St Mary Magdalene Sixth Form Islington London. Sixth Form students enjoy a masterclass with local MP Jeremy Corbyn.
We'll take you to visit at least one university, find you a work placement, and explain all your options clearly and simply.
And once you've decided where you want to go next, we'll coach you on how to get there. Here's just a few of our initiatives to help you achieve the university place or job of your dreams…
University visits
We guarantee to take you to visit at least one university, and we'll invite other universities to come in and talk to you, to help guide your choice.
Guaranteed work placements
Through Deloitte and other partner companies, we guarantee to offer you a work placement. So you can try out different aspects of real work while adding something valuable to your CV.
Sixth Form Higher Education Day
Every year we hold an intensive one-day event for all Year 12 students. The day includes an overview of all Higher Education opportunities, how to choose a university and course, writing a personal statement, navigating through UCAS, gap year opportunities, studying abroad and student finance.
Deloitte ASPIRE! Programme
Our partner Deloitte offer one-week placements on their Aspire programme for Year 12 students: spend a week in Deloitte's City offices, with intensive 1-on-1 coaching on applications, interview techniques and how to present yourself.

Sixth Form students from St Mary Magdalene Academy Sixth Form spend a day at Deloitte's City offices.
Chrysalis Summer School
Year 12 students are offered free places at this award–winning Summer event at Highgate School. Intensive workshops include choosing your course, writing your personal statement, individual 'mock' interviews and seminars by leading universities.
University Taster Days
We'll alert you to a range of external opportunities with partner institutions – like the free Medical School Taster Day at University College London.
"University and career counselling is good, and is one of the areas where the Deloitte partnership is helpful. Destinations include St Andrews, Durham, Cambridge, most of the University of London colleges, Cardiff, Warwick, Exeter, Glasgow School of Art; plus universities such as McGill, Madrid, Freie Universität Berlin, Milan."

The good schools guide


Sixth Form students from St Mary Magdalene Academy Sixth Form Islington London: a careers visit to the UK's Supreme Court. Students sitting at the judges' bench.