Programme of Inquiry (Humanities, science, art & PSHE)
Interweaving in the National Curriculum for Mathematics and English and the LDBS curriculum for RE is our Programme of Inquiry. This programme of inquiry is based around six transdisciplinary themes which, over the course of the year, ensure the teaching and learning of core subject skills and knowledge found in the National Curriculum (humanities, science, art and PSHE), in addition to the continual consolidation of the transdisciplinary skills (research, communication, social, thinking and self-management skills) we feel are vital in helping our understanding in all areas of our learning. Each of the six transdisciplinary themes:
have global significant for all student in all cultures
offer students the opportunity to explore the commonalities of human experience
are supported by knowledge and concepts from traditional subject aresas, but utilize them in ways which transcend the confines of these subjects
are revisited through the students' yeas of schooling so that the end result is immersion in broad-ranging, in-depth, articulated curriculum content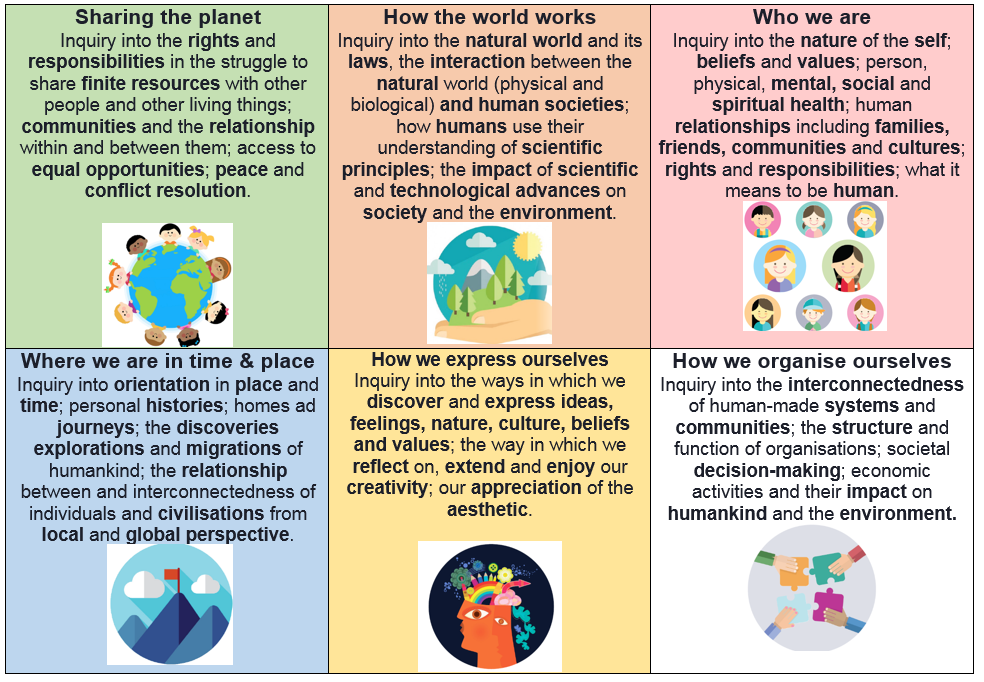 These transdisciplinary themes are revisited throughout the Primary school through different lines of inquiry. These can be seen in the documents below..
Programme-of-Inquiry-SMMA-Primary-by-transdisciplinary-theme-1.pdfSMMA-Primary-Programme-of-Inquiry-2019-2020
In addition, there is also a committment to a concept driven curriculum for the following reasons:
transdisciplinary concepts increase coherence across the curriculum
A concept-driven curriclum helps the learner to construct meaning through the transfer of knowledge
The concepts that are central to the curriculum are presented in the form of key questions. It is these questions which when used by the teacher and students, that shape the unit giving it direction and purpose. When viewed as a set of questions, the concepts form a tool that is both manaegable and open-ended. They place no limits on the breadth of knowledge and therefore provide access to every student. The questions should not be interpreted as restrictive, but represent an approach to a way of thinking and teaching and learning.
A set of eight concepts are used. These are presented in the document below as a key concept question, a definition, a rationale and examples of related concepts.
SMMA key curriculum concepts.pdf