Results
Outstanding GCSE Results
In spite of the government and national press's warnings about reduced grades and poor performance, we are celebrating our best GCSE grades ever at St Mary Magdalene Academy.
Over 80% of pupils achieved the benchmark 4+ (the old C grade+) in English and mathematics.
A quarter of all grades were at 7+ (the old A grade+)
And 22 pupils scored the new and super-challenging 9 grade, equivalent to an A**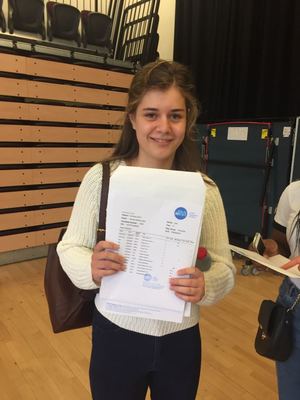 A particular mention must go to Emma (pictured here) who achieved 9 grades at 9 and two A* grades. It is not possible to have done better than that and it puts her amongst the very top performers in the country.
Headteacher, Victoria Linsley, said
'I am incredibly proud of the pupils. They have worked hard and deserve these fabulous results. I know their parents and teachers are just delighted for them, and of course, the parents and teachers are part of the success story too. With so many high grades and so many success stories, the atmosphere in the results hall was just wonderful.'
As usual, there were some Departments who achieved the exceptional: Mandarin completed another year with 100% A* and A grades; Art, Astronomy, Chemistry, French and Physics all had 100% at grade 4+ or C+.
Andrew Caspari, Chair of Governors, said 'This is an outstanding set of results and we are very proud of a great group of students who have been rewarded for their hard work. The results are also a tribute to the hugely dedicated staff at the Academy who have nurtured and supported our Year 11s, not just through the exams, but for their whole 5 years with us.'